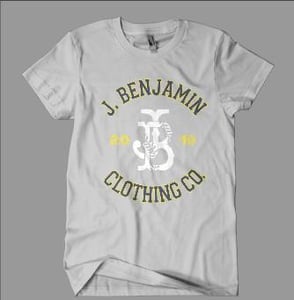 $

10.00 - On Sale
What does baseball have to do with the core of J. Benjamin Clothing Co.? For starters , baseball is a HUGE passion of mine. I love watching baseball as I follow my favorite team very closely. I get very into the games because I believe that a championship team shouldn't lose much.
Secondly, the colorway of this tee is the same colors used for the championship gear made for the Yankees. A champion is the epitome of success. Hard work, dedication, and belief in oneself are all qualities that J. Benjamin Clothing Co. strives for and what this t-shirt stands for.
Wanna resemble a champion? Then order one of the limited J. Benjamin baseball tee's today!
All tee's are printed on American Apparel Fine Cotton Jersey.
100% manufactured and printed in the USA.
***Shirt is heather gray***
Recommended care method: wash inside out in cold water then hang dry.
*Womens shirts are fitted