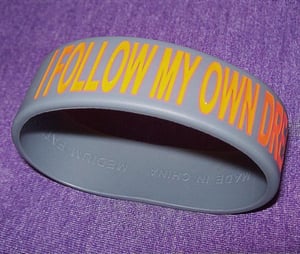 $

2.50 - On Sale
These "fatter" or wider than normal bracelets are now available to let the world know that you are or are intending to follow your own dream.
Our intention with these bracelets is for the them to be a daily reminder for the wearer to make some attempt towards their dreams, passions, and/or goals. Each time you look at it, whether you are at your desk or studying for your next test, you are reminded that you are either taking the necessary steps towards your dream or you need to begin to do so.
Are you following your OWN dream or do you need to get started?
These bracelets are dark gray with orange lettering. "I Follow My Own Dream" is printed on the top and the "JB" logo on the bottom. The bracelet measure 7 3/8" around.